Are you in the market for phenomenal cabinet contractors? If you are in La Center, WA, HJM Cabinetry is the lead option. Our cabinetry experts will get you the perfect cabinets for your space. For high-end products at excellent prices, you can reach HJM Cabinetry today at 360-605-0165!
The Process
Getting new custom cabinets with HJM Cabinetry is a three-step process. First comes the design. During this stage, our professional designer will help you explore the vision that you have for your new cabinets. We can help you decide on materials, styles, and specs of the cabinets. Once both parties are happy with the blueprint, it's time to make the design elements come to life!
In the second stage, we send our blueprints to our manufacturing partners so that they can be constructed. We'll check the layout of your space to make sure that the cabinets that are being built will suit it perfectly. After industry leading cabinet manufacturers have completed the build, we will be ready to move on to the third and final step of the process: installation.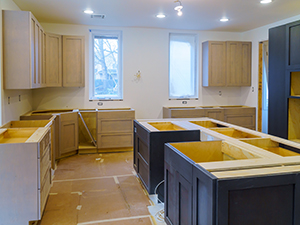 Installation is the fun part because you get to see your dream cabinets come to life! Our reliable craftsmen have been installing cabinets for a long time and will have yours looking great and ready to last. Our team works quickly and safely to complete the cabinet installation process with as little of a distraction to you as possible!
Why HJM Cabinetry?
There are a lot of things that make HJM Cabinetry one of the lead options for the people of Washington. Our cabinet experts will have your project completed the way that you had been hoping. Clients appreciate our open lines of communication and our low prices. For any sort of custom cabinetry project, just give our team a call today!
Call Us Today!
If you are in need of cabinet contractors for a project in La Center, WA, choose the dependable team at HJM Cabinetry. We continue to set a higher standard for other cabinet contractors in the state! For a project estimate, call us at 360-605-0165 for free consultation. Our team members look forward to finding out more about the project!