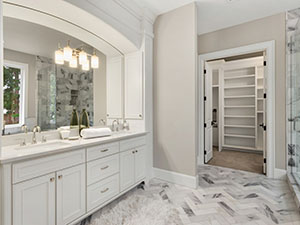 Your bathroom cabinets not only help tie your space together, but in the bathroom, keeping things clutter free and organized is often the preference. HJM Cabinetry is ready to design, build, and install the stunning bathroom cabinets you've been needing to complete your bathroom, new or old! We have cabinetry options for all residential and multi-tenant spaces, and we offer both new construction and remodel and renovation options. If you've been looking at new cabinets in the Battle Ground, WA area, look no further than the incredible professionals at HJM Cabinetry and call us at (360) 605 – 0165 when you're ready for a quote!
Wide Range of Styles and More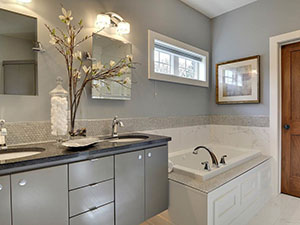 At HJM Cabinetry, we know everyone has unique tastes and preferences and that's just one piece that keeps this so fun for us. We have a blast designing your custom cabinets and with a wide range of style, color, and feature options, we're sure you'll love the new cabinets you help get designed. Every job starts with the design process and our professionals are here to listen to what YOU want. After all, this is your home and space, and it should be done exactly as you've been envisioning. If you're ever working with a contractor who tries to override your ideas, it may be time to find the right contractor.
Why HJM?
Being in the construction industry, we're in the people industry, and we take great pride in our ability to keep our customers happy in every way. Customer satisfaction is a guarantee when you're working with us, we're just here to help you make your home your own! With only the highest quality products, our skilled craftsmen come ready to install your new cabinets perfectly so they can remain beautiful and functional for years to come.
Reach Out Today
Don't let picking your new bathroom cabinets become a stressful task. Whether it's in your newly constructed home or your existing home, we think this is a process that should be fun as you choose the right options to keep things working for you. In Battle Ground, WA, HJM Cabinetry has the professionals you need, reach out to our team today at (360) 605 – 0165.