HJM Cabinetry is proud to offer homeowners and more throughout the Battle Ground, WA area with much more than a flawless cabinet installation. Our professional craftsmen will design, build, and install your new cabinets perfectly from start to finish and we'll always work to make sure your space, whether new or old, is done beautifully. From kitchens to bathrooms to entertainment rooms and those little custom nooks, HJM Cabinetry delivers nothing but the best for every customer we have. Let's get your cabinet designs started today, reach out to us at (360) 605 – 0165.
It's Your Space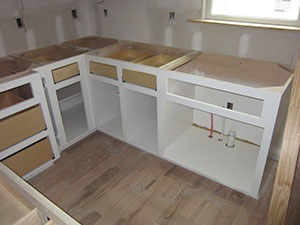 Whatever space in your home you are looking to complete with the right cabinetry options, we'll make sure you soon have a space that can work for you! If the transition to working from home has made you realize it's time to get that home office project started, HJM Cabinetry will work to make sure your cabinets and area are done so you can continue to work efficiently in the space you need. Our craftsmen come equipped to design, build, and install your cabinets perfectly in any space. Your home is often where you spend most of your time, so it only makes sense to ensure every room is one that works for you and is finished the way you want.
New Construction and Remodels
We offer cabinetry options for everyone and every space. It doesn't matter if you're remodeling your current home or if you're in the process of having your dream custom home constructed, we deliver perfection for both. If you are remodeling your current home, we have an extensive list of style and color options that are sure to have your new cabinets matching everything exactly right! Keep all your home's construction projects fun when you have HJM Cabinetry ready to work for you.
Call Today
Have you been on the hunt for a team you can trust to handle your cabinet installation flawlessly? HJM Cabinetry delivers on beautiful cabinetry options in Battle Ground, WA and the surrounding areas and we're ready to get things started for you. It can start with a free estimate that's just a phone call away, call us at (360) 605 – 0165.