Have you started your spring cleaning and you're realizing how much food gets tucked away and wasted in those kitchen cabinets in your home? Here at HJM Cabinetry, we feel your pain and we're here to help you design the perfect pantry cabinet that will help you keep everything organized and visible! We have the skilled craftsmen you've been looking for in the Kalama, WA area and we look forward to making your home more customized to you and your needs. Give our crew a call today at (360) 605 – 0165 and get a quote for your next cabinetry project.
Your Vision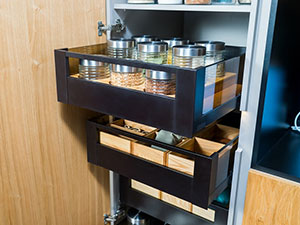 It doesn't matter if you know exactly what you're looking for or not, our craftsmen are here to bring your vision to life, no matter how detailed it is! So much time seems to be spent in the kitchen, so it only makes sense to make sure you have a space that works for you and your family. Here at HJM Cabinetry, we got into this business to help our neighbors bring their homes to life and we continue to have fun helping them make that happen room by room. Whatever you're looking to change in your home, or if you're looking to design a new custom home, we've got you covered every step of the way and we look forward to getting started!
The Perfect Match
If you're looking to redo your kitchen and add in a pantry cabinet, or if you're looking to renovate your existing pantry space, you can be sure we'll work to match things beautifully. Whatever the style is, we'll get things matched perfectly so that it looks like it was together from the start. Here at HJM Cabinetry, we believe in making your dream home become a reality and we're here to make that happen.
Reach Out Today
In need of a new pantry cabinet to keep all those items contained and organized? HJM Cabinetry is the crew you can trust to listen to your wants and needs and bring them to fruition in your home. For homeowners and more throughout Kalama, WA, we're here to make your home yours. Reach out today at (360) 605 – 0165.