Whether you're at the stage in your new home build or bathroom remodel and you're ready to finish it off with beautiful cabinets, HJM Cabinetry has homeowners and more throughout Kalama, WA covered. We're honored to be the team of skilled craftsmen our neighbors continue to call, and we look forward to helping complete your space with the perfect cabinetry options. Make your home your own when you have HJM Cabinetry working for you! Give us a call today at (360) 605 – 0165 and get a free quote for your next cabinetry project or installation.
Always Quality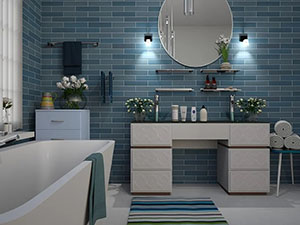 It doesn't matter what style you're going for, at HJM Cabinetry, we deliver quality cabinetry products and services on every job we complete. We know cabinets can take a beating and we use only high-quality cabinetry products that are designed to work for your everyday needs. Built with outstanding quality and durability, we're sure you'll love the beauty that your cabinets provide for years.
Design Your Cabinets
The first step in the cabinetry process is the always fun and enjoyable design piece. We have a blast during this process, and we'll listen to your wants and needs for your space to ensure you're getting the cabinets you've been envisioning. It doesn't matter if you know exactly what you're looking for, or if you're looking for plenty of guidance and recommendations from our design team and contractors, we're here to bring your space to life the way you want and need!
Build and Install
The last two steps of the cabinetry process involve building and installing your cabinets. We'll make sure you approve of the layout before we send your blueprints to our manufacturing partner and once your beautiful new cabinets are constructed, we'll get to work installing them into your home or other space with minimal disruption.
Reach Out Today
When you're looking to have new bathroom cabinets installed in your home in the Kalama, WA area, HJM Cabinetry is the team you can trust to get things done perfectly from start to finish. We work to help every customer of ours have the home of their dreams and we're sure you'll love your stunning new cabinets from our skilled craftsmen! Reach out today at (360) 605 – 0165.