Ready to get that bathroom remodel you've been thinking about off the ground? At HJM Cabinetry, we've got a team full of skilled contractors that continue to have fun helping our customers design and build the space they want and need and because we custom tailor all our jobs to perfectly fit your unique needs, you can rest assured we'll fit your taste beautifully. We bring homeowners and property managers in Woodland, WA and the surrounding areas quality cabinetry services and because we never settle for anything less than perfection, you can be sure your project will be done flawlessly from the start. For the highest quality remodel services around, call HJM Cabinetry today at (360) 605 – 0165.
A Perfect Fit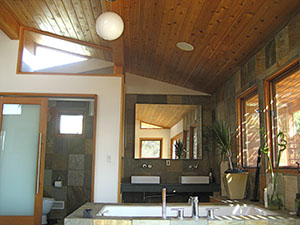 Finding the right cabinets for your bathroom remodel won't be an issue when you call on us. With our extensive list of style and color options, we're sure we've got the perfect fit for your space! Our process involves designing, building, and installing the cabinets which means you will be working with our professionals from start to finish, no middleman, no surprise charges, just honest, exceptional work! We know your cabinets can really tie together the whole space and we'll make sure yours are designed to do that and more! Whatever style you're going for, we've got options. From modern to contemporary to rustic to country and so much more, your new bathroom will match things exactly as you've been wanting! Not to mention our long list of available features for your new cabinets. With soft close options that are ideal for kids' bathrooms and organization systems that help keep your bathroom tidy, you'll love everything about your new cabinets!
Reach Out Today
When you want to finish off that bathroom remodel with the perfect cabinetry options, reach out to the team at HJM Cabinetry today at (360) 605 – 0165. We bring those in the Woodland, WA area quality products and services they can count on and we have a blast helping you choose the right option that will fit your space beautifully! Don't be disappointed with low quality cabinets, hire our team for the highest quality at fair prices and know you're getting the best of it all!