Need a reliable team to design and build some bathroom cabinets? HJM Cabinetry will get the project done your way. We offer a complete list of cabinetry services to those in Camas, WA. To find out more info about our bathroom cabinets, call us today at 360-605-0165. We'll also be able to provide a no-cost estimate on any kind of cabinetry project!
First Class Craftsmanship
The craftsmen at HJM Cabinetry are leading the way for other cabinetry professionals in the United States. Our team has a ton of experience designing, constructing, and installing bathroom cabinets. Our cabinets not only look nice — they are also built to last. We'll have your bathroom looking incredible with some fresh new custom cabinets!
Another great thing about choosing HJM Cabinetry is that our customer support makes the entire process of getting new cabinets easy, from beginning to end. We work diligently to make sure that our clients get exactly what they were looking for out of their new custom cabinets. We'll listen in detail to what you are looking for, and then make that vision come to life!
Our Bathroom Cabinets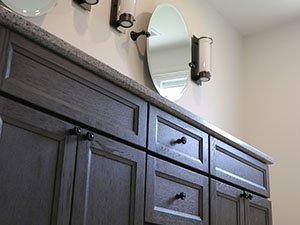 With HJM Cabinetry, there is never any shortage of options. You're in the driver's seat when it comes to your own cabinets since we have a huge selection of materials, styles, colors, and more. We make browsing these options easy and efficient and can help you along the way whenever any questions come.
Cabinets can really bring together a roof, especially the bathroom. In the past, we have designed, built, and installed several beautiful bathroom cabinets that are also fully functional. The crew at HJM Cabinetry aims to continue being the lead option for those in the state of Washington. Just have a look at our gallery to check out what we can do!
Call Us Today!
The team at HJM Cabinetry has the experience and resources to get your the perfect bathroom cabinets for your home or building. If you are prepared for us to get started on this project, reach out to our experts today at 360-605-0165. We can answer any questions you have about the process and even give you an estimate on the cabinetry project.