Is it about time for a kitchen remodel? HJM Cabinetry is the leading choice for the people of Camas, WA. Our craftsmen have been in this business for quite some time now and are capable of handling any sort of cabinetry project. For a free quote on a kitchen remodel, just call our team today at 360-605-0165.
Our Remodels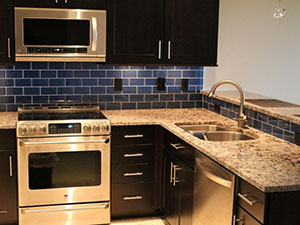 If you are looking to upgrade your kitchen, HJM Cabinetry is the number one choice for kitchen remodels in the state of Washington. We have proven time and time again that we can be trusted for expert craftsmanship and top quality customer service. Cabinets are an essential part of a kitchen and our experts will be able to remodel them to suit your preferences!
Custom Cabinetry Experts
When it's time to get some new cabinets, there are a lot of options when you choose the right company for the job. HJM Cabinetry has plenty of options to go through, and we make it easy to view the different styles. With HJM Cabinetry, you essentially have a clean slate to work from.
New Construction
HJM Cabinetry offers a lot more than remodel services. If your project calls for new construction, you can trust our team to deliver flawless results. Our craftsmen have been at this for a long time and can handle any sort of cabinetry project! Choose us for quick and high-quality cabinetry services!
Why HJM Cabinetry?
The team at HJM Cabinetry is experienced, transparent, and approaches each project with great care and attention. We make the process of getting a kitchen remodel easy, straightforward, and affordable! We'll listen to your exact desires for your new kitchen and turn them into a reality. The team at HJM Cabinetry are experts in all sorts of cabinetry styles, including modern, shaker, and traditional. We offer a number of different color options with plenty of features to choose from!
Call Us Today!
Need a kitchen remodel in Camas, WA? With top quality customer support, first class craftsmanship, and timely project completion, HJM Cabinetry is the lead option. We offer kitchen remodels and a whole lot more at low prices. To start, call our team today at 360-605-0165.