If you are picturing your dream cabinets for your bathroom, kitchen, or some other room in your house, HJM Cabinetry can make them a reality. We offer high-quality custom cabinets to the people of Camas, WA. To get started with the initial steps, reach out to our cabinetry experts today at 360-605-0165.
Custom Cabinets At Great Prices!
Getting new additions to your home doesn't need to cost an arm and a leg. HJM Cabinetry offers beautiful custom cabinets at excellent prices to the people of Washington. We'll design and construct your cabinets to meet exact specifications. Our products look great, work great, and last a long time!
Styles Of Cabinetry
At HJM Cabinetry, we have been known to design beautiful custom cabinets in all sorts of styles. This includes modern, contemporary, shaker, traditional, and more! Whatever style of cabinets would work best for your home, we can deliver. Speak with us in detail about what you are looking for and we will make those cabinets a reality!
Transparency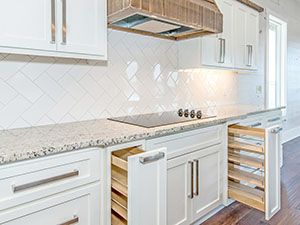 At HJM Cabinetry, we believe in being fully transparent from the start. This means providing accurate estimates on the cost and how long a project will take. We value customer service and do all that we can to cater to the needs of our clients. Our company began with a focus on providing exceptional products at low prices!
Why HJM Cabinetry?
Hiring a company to work on your home should not be done without a bit of research. There is a big difference between HJM Cabinetry and a lot of other cabinetry companies out there. The custom cabinets we build are the best around and we make the whole process as easy and affordable as possible for the people of Washington.
Call Us Today!
HJM Cabinetry is known for designing, building, and installing flawless custom cabinets. We're a cabinetry company with a team of flexible, creative, and talented craftsmen that can pretty much do it all when it comes to custom cabinets. For a wealth of options, excellent customer support, and great prices, call us today at 360-605-0165. Our cabinetry experts will be happy to give you an estimate on the cabinetry project that you have in mind.