The professional craftsmen at HJM Cabinetry are proud to deliver quality results in a timely manner on every job we complete for our customers throughout Washougal, WA and the surrounding areas. We know the reputation that follows most contractors and at HJM Cabinetry, we'll make sure you are never dealing with drawn out projects or projects that far exceed your expected quotes. Hiccups happen in life, there's no way around that, but ensuring you have an open, honest team with your project at the front makes everything easier. Whether it's a kitchen renovation or new cabinets in a bathroom, we handle projects of all sizes and will make sure yours is done perfectly. Give us a call today at (360) 605 – 0165, we'll help you make your home yours again!
You Have Options
At HJM Cabinetry, we've heard from many of our customers that an initial fear and drawback of renovating your home is ensuring things will be done to match your existing areas beautifully. When you choose to work with us, you can rest assured knowing our extensive list of style, color, and customization options will help you to get the cabinets you've been envisioning for your space. While people will admire your beautiful new kitchen, they'll never know it wasn't that way from the start and that's how it should be. A renovation shouldn't be an eyesore, it should bring it all together and our skilled craftsmen will make sure yours is done right from the start!
Our style options include: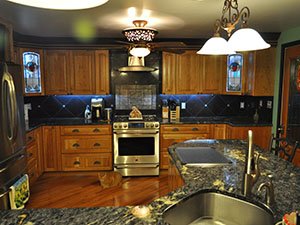 Modern
Traditional
Contemporary
Rustic
Shaker
Country
Craftsmen
And more!
Call our office today to learn more about the various colors and features we have available for both the interior and exterior of your cabinets. Let your home work for you, call HJM Cabinetry today!
Reach Out Today
If you're ready to make that kitchen renovation you've been thinking about happen, HJM Cabinetry is ready to help! We bring homeowners and more throughout Washougal, WA stunning cabinetry options and we'll make sure they fit your space perfectly. Get a quote for your next project, reach out today at (360) 605 – 0165. Timely project completion is a guarantee when you choose to work with HJM Cabinetry for any of your projects!