Does every trip home from the grocery store end with you trying to shove your cabinets full of the items you just bought, leaving you unable to see what you just came home with? At HJM Cabinetry, we get it and we're happy to say we've got solutions for your kitchen, no matter your space! Our skilled craftsmen will work with you to make sure you get exactly what you need, whether it's a new pantry cabinet or new cabinets in your kitchen or other area, we'll make sure things are designed and built just the way you want and need. Don't let your grocery trips be more tiresome than they need to be! Reach out to our team today at (360) 605 – 0165, we're proud to deliver quality throughout Washougal, WA and the surrounding areas.
Transform It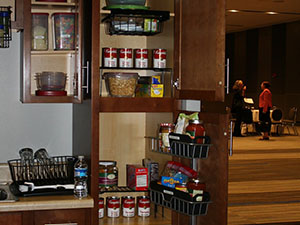 If you're looking to redo your current home's space, we'll help you transform it into the area you've been envisioning. Whether we're renovating your existing pantry cabinet or if we're adding one in, we know you'll love the space it gives you! Cabinets give you the space you need and help you to keep things organized and when it comes to your food, this is ideal as it helps you avoid wasting items you can't even see tucked all the way in the back. With a long list of customizations, we're sure you'll love the way you can make it work for you!
Match It
If we're working in your home and you'd like us to match your new cabinets to fit your existing style, you won't have to worry about a thing. With our extensive list of style, color, and other options, your new cabinets will fit your space beautifully! Your satisfaction is more than a guarantee with us, our design process is unmatched and will help you see your vision before we even order materials for your project. Get your project going today!
Call Today
When the time for a pantry cabinet can no longer be put off, the team at HJM Cabinetry is ready to help. We enjoy helping our customers simplify their daily routines and we'll gladly provide you with a free quote for your next cabinetry project in the Washougal, WA area. Give us a call today at (360) 605 – 0165.