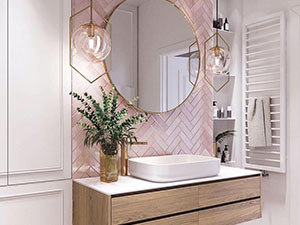 When you go to clean the bathrooms in your home, it can be frustrating when you must first clear off the counters. Sometimes it feels like your bathroom cabinets just run out of space, if you're feeling like you need more storage space, call HJM Cabinetry today and get new bathroom cabinets that will fit your space beautifully. We have a long list of customizations with all our cabinets and we'll make sure you get the ones you need that will help keep things clean and organized. At HJM Cabinetry, we have fun helping our customers design the cabinets they want, and we enjoy bringing you a little more peace of mind knowing things are where they're supposed to be. If you have cabinetry ideas you'd like to bring to life in Washougal, WA, call HJM Cabinetry today at (360) 605 – 0165.
Custom Built
At HJM Cabinetry, every project starts off with the design process and that's where the fun begins. Our design process allows you to make changes and customizations and really visualize what your space will look like. There are multiple opportunities throughout the design process to truly help you customize your cabinets and make sure they're exactly what you want before we even order the materials for your project. This is a great way to help cut waste and excess costs! From new construction to remodels and renovations, our skilled craftsmen are ready to handle any project you need. No matter the size or the space, we're ready to get to work for you! With HJM Cabinetry working for you, you can rest assured knowing your project will be done perfectly every step of the way ensuring stunning results every time!
Reach Out Today
If you've been looking to redo the bathroom cabinets in your home, why wait? There's no better time to make your home yours and the professional craftsmen at HJM Cabinetry are ready to help. We bring you the highest quality products and service in the Washougal, WA area and we look forward to the opportunity to work with you. Reach out to us today at (360) 605 – 0165, we'll provide you with a detailed quote for your next project!