Whether you're looking for the right team to install kitchen cabinets in your new home or if you're looking to redo the kitchen cabinets in your existing home, the professional craftsmen at HJM Cabinetry are the ones to call. We design, build, and install all types of cabinets and we will make sure you get the ones that will fit your space and needs perfectly. The right cabinets can help bring it all together and they help to keep things decluttered and organized; with HJM Cabinetry, we'll listen to your wants and needs and make sure your new cabinets are stunning and perfect in every way. We are proud to offer our superior cabinetry services throughout Washougal, WA and the surrounding areas. For a free quote, give us a call today at (360) 605 – 0165.
Function or Character?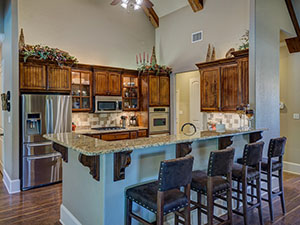 How about both? When you choose to work with HJM Cabinetry for any of your cabinetry projects, you can rest easy knowing you won't have to sacrifice anything you're wanting, we'll work with you to bring it all to your kitchen and your home! Whether you're looking for that optimal built-in storage with your new cabinets or if you're looking for cabinets that will help bring that character to your home, the craftsmen at HJM Cabinetry are ready to make sure you get everything you're looking for.
It doesn't matter what the size of your kitchen is, we'll help improve the function with our incredible design services. This will help us get the optimal layout and ensure things are done just the way you want before we even order the materials for your project. We work to make every job we complete for our customers a fun one, making your home your own shouldn't be a stressful thing to deal with and when you trust our team of professionals, it won't be!
Reach Out Today
If you're ready to get your kitchen cabinets redone properly or if you want new cabinets installed in your new home, the team at HJM Cabinetry is ready to help. We deliver outstanding results on every job we work on in the Washougal, WA area and we look forward to the opportunity to work with you. Reach out today at (360) 605 – 0165.