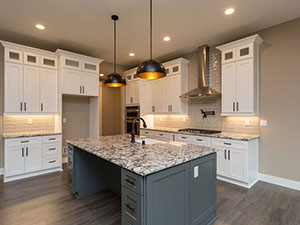 Home construction projects should be fun! You're customizing your home to fit your needs and wants better, and when you hire a team of professional contractors, it's a hassle-free process from the start! At HJM Cabinetry, we strive to make every project, whether it's a kitchen renovation or a bathroom remodel, a breeze. Our cabinetry services are second to none in the Ridgefield, WA area and we know that your neighbors continue to call on us because customer service is equally as important as our flawless craftsmanship. When you choose to work with us for your next project, you can rest easy knowing you're working with a team of dedicated and professional craftsmen that will deliver only the highest quality cabinets and install them flawlessly. It doesn't matter if you have a basic idea or if you have it all planned out, we're here to help complete things perfectly. Reach out today at (360) 605 – 0165 and we know you won't be disappointed when you're working with us!
Choose Your Features
From soft close options to protect those little fingers and hands to internal organization systems that will keep things clean and tidy, we're sure you'll love the nearly endless customization options you have with our cabinets! We're here to help you make your home yours, it doesn't matter what space you're wanting to redo, we've got cabinets that are right for every space! We have cabinets that work great in all areas including: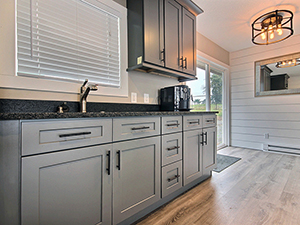 Kitchens and dining rooms
Bathrooms
Mudrooms and entryways
Entertainment centers
Home offices
Closets
And more!
With HJM Cabinetry handling your next cabinet project, you can be certain you'll get the look you've been wanting, and the functionality will be more than you could've imagined! Keep things running smoothly with the professionals at HJM Cabinetry, we're here and ready to assist with your next project!
Call Today!
Don't let your kitchen renovation project get out of hand and stress you out. Keep things simple with a team of professionals that will keep your vision at the front every step of the way. We work for you and will make sure you're always pleased with the project. HJM Cabinetry is proud to deliver superior service throughout Ridgefield, WA and we're ready to work for you. Give us a call today at (360) 605 – 0165.