If you have a cabinetry project and you need help with the installation, the experts at HJM Cabinetry are here to help! We deliver the highest quality workmanship on every job we complete and we're sure we can get your new cabinets installed just the way you were hoping! We specialize in all things involved with cabinetry; framed, frameless, we do it all and offer our customers an extensive list of beautiful, quality products. If you need help with any type of cabinet installation in the Ridgefield, WA area, reach out to HJM Cabinetry today at (360) 605 – 0165.
New Construction or Remodel? No Problem!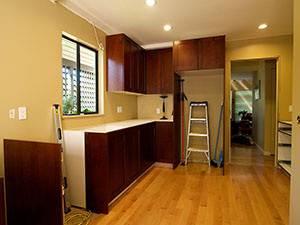 At HJM Cabinetry, we handle cabinetry projects of all kinds! Whether you need cabinets installed in your new home or if you're looking to redo a space in your home, we will make sure everything is done perfectly every step of the way. Our cabinets are completely customizable in every way, from the style to the color and the many different available features, your new cabinets will fit your space exactly as you were envisioning. Work with professionals you can trust to handle things properly from the moment you call, we're ready to get your project started!
Hassle Free Installations
When you trust our team with your project needs, we will work to make sure the installation process is as hassle free as it can be. We work around your schedule and work quickly yet flawlessly to ensure your home and daily routine are disrupted as minimally as possible. We keep things clean every step of the way and we know you will be thrilled with your new cabinets when you see the finished project! Have questions about the installation process? Give us a call today!
Trust the Experts
When you're looking for a team of professionals you can trust your cabinet installation with, call on the crew at HJM Cabinetry for stunning results every time. We are proud to deliver beautiful results on every job we work on throughout Ridgefield, WA and the surrounding areas. If you're thinking about updating a space in your home and would like to know more about your cabinetry options, call today at (360) 605 – 0165.