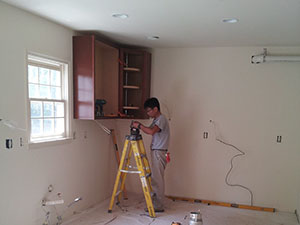 Kitchen remodels can be a fun project to design! They can also be a hassle. It all depends on the company you trust to help you get things going. With HJM Cabinetry, we have superior design services that help us get your new kitchen and the cabinets you want designed perfectly. Our design services allow you to see how your kitchen remodel will turn out before we even order the product! This is a major advantage because it helps to lower your project costs by avoiding unnecessary material waste and it helps you see where things will be and how it will look. We can get things moved around before we start the physical work! Know what you're getting before it's too late, trust any of your cabinetry needs in Ridgefield, WA to HJM Cabinetry for worry free services, give us a call today at (360) 605 – 0165.
Get What You Want!
Just like with anything in your home, you should work with a company that helps you get what you've been wanting! At HJM Cabinetry, we know you come first, and you and your project will be our priority from the moment you call. We're here to make your home more suited for you and your needs and we know the kitchen is a central space for many families! When it comes time to remodel yours, we'll be here every step of the way to make sure you get what you want! Trust your home to a company that cares, call HJM Cabinetry today!
Framed or Frameless?
At HJM Cabinetry, we offer both your traditional framed cabinets as well as the newer and popular frameless cabinets. Both are incredible options and can be customized to your liking. Frameless cabinets can offer you up to 10-15% more storage space and are just as stunning as our framed cabinets. Either way you go, we know you'll love your new cabinets! Call today to learn more!
Reach Out Today
Don't let your kitchen remodel project become overwhelming. Call on the team of expert craftsmen at HJM Cabinetry for a hassle-free experience from the moment you call. We'll work with you to get you the kitchen you've been dreaming of, reach out today at (360) 605 – 0165 for service in the Ridgefield, WA area.