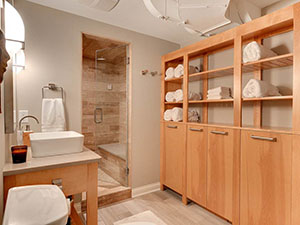 At HJM Cabinetry, custom cabinets are our specialty. We offer a long list of customizations for all our cabinetry options and we're sure you will love the look and style you choose for your home! From the styles to the colors and the many different options for organizational systems and other features, you can customize your new cabinets to fit your needs perfectly while ensuring they'll match the look you're going for beautifully. Every professional craftsman on our team is committed to providing our customers with the finest work around and with our quality and dependable products, your new cabinets will be fit to last for years! If you have a cabinetry project you need help with in the Ridgefield, WA area, call HJM Cabinetry today at (360) 605 – 0165! We're happy to provide you with a detailed quote!
Just for You
When you choose to work with us for your next cabinetry project, you can rest easy knowing your new cabinets can be completely customized to fit your wants and needs seamlessly. Get the look and style you've been dreaming of while ensuring the interior is set up the way you need it. Cabinets help complete areas and our skilled craftsmen will make sure yours are designed and installed flawlessly. When you have questions about your various cabinetry options, give us a call and we'll make sure you get all the answers you need!
Cabinets for Every Area!
We're ready to help you transform any space in your home or office with our incredible cabinets. We have cabinets that are perfect for all areas, including:
Kitchens & Pantries
Dining Rooms
Mudrooms
Living Rooms & Entertainment Centers
Home Offices
Closets
And much more!
Whatever area you have a vision for, we'll help you get things designed just right! We're here to help every step of the way and make the entire process a little less stressful.
Reach Out Today
When you trust your custom cabinetry project to the team at HJM Cabinetry, you can be certain you'll get the look you've been wanting! We will work closely with you and listen to everything you want and need, before we even order materials, we'll make sure you're happy with the design and layout. For superior custom cabinets in the Ridgefield, WA area, reach out today at (360) 605 – 0165.