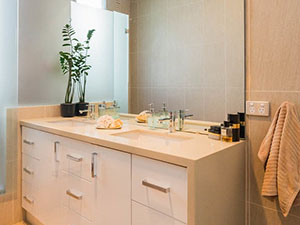 What space wouldn't benefit from a cabinet renovation? At HJM Cabinetry, we are happy to provide exceptional cabinetry services throughout Vancouver, WA and a common cabinetry project we complete for our customers throughout the area continues to be bathroom cabinets. Renovating bathroom cabinets or installing new ones in new construction may seem like just another project, but when you choose to work with the skilled craftsmen at HJM Cabinetry, your cabinets can be so much more than "simple". With a long list of styles, colors, and features, you can truly customize your cabinets to fit you and your space perfectly. The right cabinets can really help tie it all together and they help you to keep things organized! Whatever your looking for with your next cabinetry project, you can trust in the professionals at HJM Cabinetry to get you the results you're wanting! Give us a call today at (360) 605 – 0165, we'd be happy to provide you with a free quote for your next project!
Professionalism You Can Count On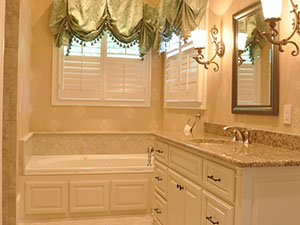 From the moment you call on us for any of your cabinetry needs, you'll feel the professionalism that our team has to offer. Our customer service is second to none, we will work closely with you to ensure your project gets done exactly as you were envisioning and the craftsmanship that every member of our crew provides is simply stunning. We have worked hard to build a team that you can count to deliver flawless work time and time again.
Customize Your Space!
With HJM Cabinetry, you can get your cabinets to fit your needs just the way you're hoping. From unique organizational systems to drawers and more, we think you'll have as much fun as we do designing your new bathroom cabinets! Call us anytime and we'll gladly answer all your cabinetry questions!
Reach Out Today
When you're ready to take your bathroom cabinet ideas and turn them into a reality, trust the team at HJM Cabinetry! We deliver superior craftsmanship in the Vancouver, WA area and we know you won't be disappointed when you choose to work with us! Bathroom cabinets, kitchen cabinets, pantries, and more, we do it all! Your satisfaction is our guarantee, reach out today at (360) 605 – 0165.