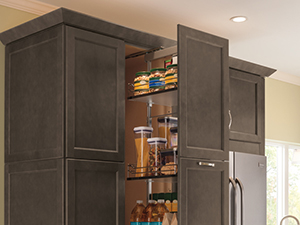 Your pantry cabinet can be as extravagant or as simple as you want, but you can be sure that when you hire HJM Cabinetry to get the project completed, unloading the groceries won't be a dreadful task any longer. We bring our neighbors throughout the Battle Ground, WA area the cabinetry options they need to keep a functional home without sacrificing its beauty. HJM Cabinetry has the professional contractors you can count on to deliver nothing but stunning results that will leave you with a home you're thrilled with once again. No matter the space, we've got the right solutions, just call us today at (360) 605 – 0165.
The Right Fit
Whether you're looking to have a new pantry cabinet installed in your new home under construction, or if you're completing a kitchen remodel and you'd like to know you have all the room you need to keep your food and other items organized, HJM Cabinetry has the perfect cabinets for the space. We work with both new construction projects as well as remodels and renovations and we'll design the cabinets exactly as you've been envisioning to keep things tied together as they should be.
If you're worried about matching the style of your current kitchen, hire HJM Cabinetry and worry no more! We have a wide range of style and color options that will leave your new cabinets meshing perfectly and we bring the custom feature options you need to ensure you're getting the most from your new space and cabinets. The craftsmen at HJM Cabinetry are here to help your home work for you and we'll get your new cabinets designed perfectly to ensure this can happen.
Reach Out Today
Looking to have a new pantry cabinet designed and installed in your home in Battle Ground, WA? HJM Cabinetry specializes in all things involved with both residential and multi-tenant cabinetry and we're here to deliver the stunning results you've been looking for. Construction projects often come with a bad rap as they can take longer and cost more than quoted, but with HJM Cabinetry, our accurate estimates are sure to leave you with a job done on time and flawlessly. Reach out today at (360) 605 – 0165.