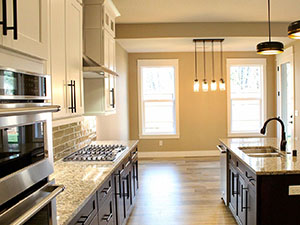 When you're beginning to start the journey to a new or upgraded kitchen, choosing the style you want for your cabinets is a crucial element to determine the overall look. There are various types of kitchen cabinetry styles that you can choose from. The HJM Cabinetry team would be happy to help you determine which kitchen cabinetry style is best for your Vancouver, WA property. To learn more, call our office at 360-605-0165.
During the Design Process
When we begin the initial design process, our professional designer will work with you to determine what you're looking for. Are you looking for something contemporary or modern? Perhaps you're more traditional. Or do you prefer rustic or farmhouse? There is no wrong answer to these questions. It's all about determining what will be the style you're happy with for many years to come. We help you explore how you'll appreciate the design not just immediately, but for 10 years down the road.
The next step is to determine what types of hardware you envision for your cabinets. There are various styles of hardware, knobs, and pulls. The important thing we'll touch on is ensuring that you have a cohesive look. Not all hardware works with different cabinet design styles. If you are set on a type of hardware, we'll work from there to suggest cabinet door styles that compliment it.
We will then explore the color options available for your new kitchen cabinetry. Do you prefer a natural wood look? If so, we'll guide you to a stain that fits your desired look. Want to keep a clean white surface? No problem. We also have various color options for you to choose from.
Working with the Best
When you work with the HJM Cabinetry team, you're working with professionals who have your best interest at heart. We will work along side you and never push you into a design you are uncomfortable with. Our goal is to create a beautiful kitchen space that you and your family can enjoy for years to come. If you're ready to explore new kitchen cabinetry options for your Vancouver, Washington home, please give us a call. You ran reach our team at 360-605-0165.